Commercial Solar Street Lights Custom
Huajun is a well-known supplier of commercial solar street lights that meet a wide range of outdoor lighting needs. Our solar street lights are widely used in highways, streets, rural roads, residential roads, industrial parks, landscape parks, construction sites, parking lots, campuses, etc. Not only do they provide enhanced safety, they also contribute to sustainability and promote a green image.We have our own production factory and R&D team, we can design the drawings and customize the solar street lights according to your needs. Our partners in 38 countries around the world are very satisfied with the quality and design of our solar street lights. Meanwhile, the type of solar street light source is Taiwan crystal RGB5050 with built-in high brightness RGB led beads. Therefore, these street lights meet the environmental standards and do not produce light pollution compared with traditional street lights.
√ 17 years professional commercial solar street light manufacturer
√ Support customized street light size, light color and brand logo
√ Minimum order quantity: 50 pieces
√ A large number of styles to choose from (on-site consultation available)
√ Detachable commercial solar street light (save transportation cost)
√ One-stop-shipping program, ships within 15-20 days
Huajun Offers Different Types of Commercial Solar Street Lights
The lumen of solar street light is 100lm/W. There are many choices of material for solar street light: regular iron material, also plastic polyethylene (PE) material. We provide customized service in height selection, you can customize different sizes according to your needs. Conventional iron material street light is more suitable for street lighting and more fashionable. Plastic polyethylene (PE) material solar street light with even light transmission can be luminous through the body. Meanwhile, the built-in RGB lamp beads have 16 light source colors. It is lighter in material than other street lights, sturdy and durable. And, this assembled street light can reduce the transportation volume. This means in you can save about 50% of the transportation cost when you buy it.
If the concept of commercial solar street lights has caught your interest, contact us.We'll help you choose the best commercial solar street lights for your needs.
Personalized Solar Lights with Complete Performance
1.Site Selection:Choose a suitable location to install personalized solar lights, at the same time, the irradiation range and decorative effect of street lights should also be considered.
2. Preparation of materials and tools:Prepare solar panels, screws, cables, controllers, and make sure the quantity of materials is sufficient.
3.Connecting cables:Before placing the street light, you need to connect the cable between the solar panel, led light and battery. (Pay attention to the length of the cables and the reasonableness of the wiring.)
4.Install controller and debugging:Install the controller on the bracket, connect the street light solar panel and debug it to make sure the parts work properly.
5.Fix the light body:Place the customized solar led street light in the designated location, fix the street light base with bolts and nuts to ensure stability and verticality.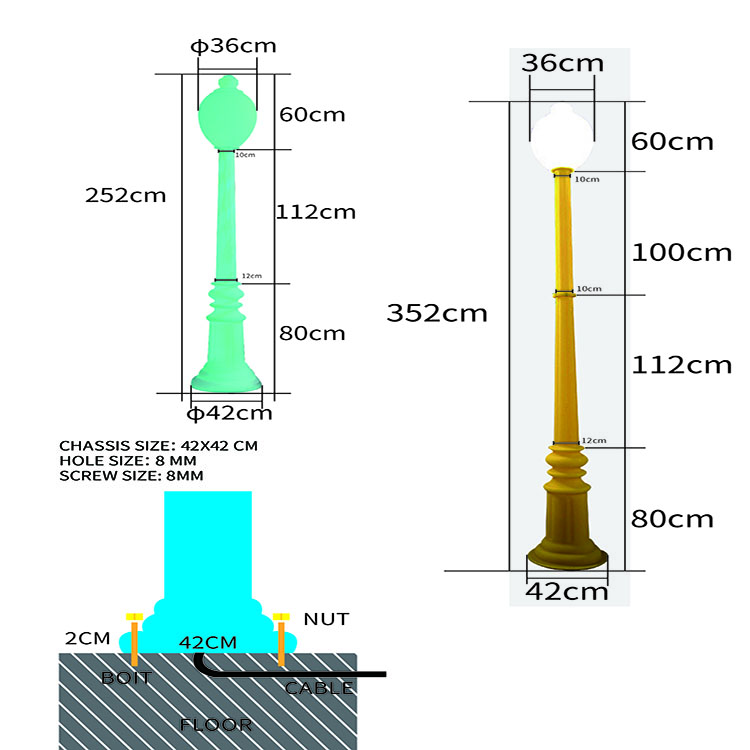 Our solar street light is more widely applicable, the 16 color changing fully illuminated street light can be used in B&Bs, plazas, outdoor entertainment venues and tourist attractions to attract attention and create a gorgeous night scene. At the same time, you can also choose to fix a lighting effect by remote control for lighting use.
In terms of service, our team will provide more cost-effective solutions with fewer lumens (but better focus) according to your needs, resulting in less energy waste and lower product costs. Our solar lighting systems require no backup power in the event of a natural disaster, require less maintenance, require no load on the grid, and operate more consistently than competitors' fixtures.
The solar cells we use are CE and UL certified and are tested more rigorously than most battery standards, and the solar panels are designed to be mounted in a way that protects your investment even in windy conditions. And, of course, our systems are equipped with light sensing systems to help you conserve energy. When you need outdoor lighting that can withstand hurricane-level winds, our fixtures and solar panel configurations are the most durable available.
Huajun solar street light bead adopts Taiwan Epistar chip brand. The chip is waterproof, high temperature resistant and anti-aging. Meanwhile, the service life of RGB5050 lamp beads reaches 80000H, which is longer.
Compared with ordinary solar street light, Huajun's customized led solar street light has 360 pcs of lamps and lanterns for both decoration and lighting effects. It can meet the daily lighting demand.
Personalized solar lights built-in RGB colorful light beads, easy to create a night road. According to the installation environment, it can be dimmed and changed color to improve the quality of night lighting and city image.
Custom street lights adopts external solar panels, it is easier to determine the location of solar panels according to the local light conditions to ensure the absorption of light. Our solar street lights can be used for 1-3 days under full power condition.
Huajun To Meet Your Customized Solar Powered Led Street Lights Needs
The video comes from a Brazilian customer who contacted us and sent us this video because he liked the ambiance created by the street light and wanted to customize all in one solar street light.
In July, the customer contacted us through a Google search and wanted to customize the all in one solar street light. He wanted to customized all in one solar street light, and he said that the most common solar street light in the market is cool white, and there are very few RGB multi-color street lights. The street light we sell fills the gap in the market. After we told him that the material of this street light is imported from Thailand and has the effect of light weight and even light transmission, he asked us to give him the detailed shipping cost.
We specialize in designing comprehensive commercial LED solar lighting systems. If you would like to learn more about our solar street lighting products, please feel free to contact us. Our in-house engineers will be happy to discuss your design needs in detail and make recommendations.
Solar street lights are outdoor lighting fixtures powered by solar panels that use renewable solar energy to provide light.
During the day, solar panels on the street light converts sunlight into electricity that is stored in the batteries. At night, the battery supplies the energy to light up the LED light fixtures.
Yes, solar street lights use clean, renewable solar energy, making them energy-efficient and cost-effective.
Yes, initially, solar street lights may be more expensive. However, they save energy costs and maintenance costs in the long run making them more practical.
Yes, solar street lights can be installed anywhere as long as there is adequate sunlight for the solar panels.
Solar street lights reduce the need for fossil fuels, reducing carbon emissions and helping to reduce the carbon footprint on the planet, hence contributing to environmental protection.
Yes, solar street lights may need occasional maintenance. Keeping the solar panels clean, changing batteries and ensuring that the lights function are some of the maintenance activities required.
Solar street lights are relatively durable and can last for up to 25 years with the right maintenance.
Solar street lights come in various brightness levels, depending on the application.
Yes, solar street lights are versatile and can be used as decorative lights for gardens, driveways, and other outdoor settings.
They're Weather Dependent.Solar street lights rely on the sun to power the lights, which means that they may not work effectively in areas with limited sunlight. And they Have a Higher Initial Cost.
4.5m.In order to avoid glare, diffuse reflection can be selected (d) (e) (f), and the installation height of solar street lights should not be less than 4.5m. The distance between the solar street light poles can be 25~30m
①Lumen specification:System lumens should be more than or equal to 100lm/W.
②Installation specifications: Should be selected in areas with relatively dense traffic and pedestrians, and evenly distributed light sources
The solar street lamps produced by Huajun Lighting Decoration Factory are the best, with low production costs, favorable prices, excellent quality, and thoughtful service.